From 22nd to 24th February 2019, Phillip Island hosted the first round of this year's Supersport World Championship season and the riders fought against each other (with compulsory pit-stop, due to tyre life issues) on the spectacular Australian circuit.
If you watched the race, you should know that it was won by Swiss Randy Krummenacher (Yamaha Bardahl Evan Bros. Racing) ahead of Jules Cluzel (Yamaha GMT94) and Federico Caricasulo (Krummenacher's team-mate). Well, this is not the topic of the article you're reading, because I'm going to tell you about the result and story of Péter Sebestyén (CIA Landlord Insurance Honda).
Sebestyén finished the first race of 2019 in eighth place. It doesn't look like that, but it's an important result: firstly, it's the best result achieved by Sebestyén in a world championship race; secondly, and especially, it's the perfect way to follow up the 10th place he scored last year in Qatar, where the Hungarian finished a very tough season on a very high note.
Sebestyén has been competing at world level since 2014, when he debuted in World Superbike with Team Tóth, but he had never gone so fast and such results are a great boost for his confidence. In the past five years, Sebestyén was often criticized by motorsport fans and media and some of them considered him as "not so fast", "talentless" and "recommended". Here's an example from a famous German website:

The truth is that this nice, humble and sociable guy had never had the chance to show his skills, for several reasons. Well, let's go with the story!

2014
After a good campaign in European Junior Cup (single-brand series for young riders, which used to take place alongside Superbike World Championship in some European rounds), Péter Sebestyén went straight to SBK thanks to Team Tóth, who gave him an EVO-spec BMW machine. It was one of the hugest moves in the history of motorcycle racing, even huger than the one made by Jack Miller the year after (from Moto3 to MotoGP). Sebestyén joined World Superbike after racing in some kind of Red Bull MotoGP Rookies Cup and the struggle due to such a big change, together with the low speed of his bike and a pre-season injury, caused him to be constantly in the lowest part of the ranking. Furthermore, he suffered several crashes and one more injury, the latter forcing him to miss the final rounds of the season.
2015
The traumatic experience in World Superbike was followed by a move to Superstock 1000 FIM Cup, as Péter Sebestyén joined Team Pedercini Racing. Well, the people following STK1000 races know that the green ZX-10R wasn't the best machine on the field. Moreover, Sebestyén struggled all season long due to arm pump. Finally, "Peti" finished the season in 29th position, as he scored a 13th-place result at Imola.
2016, Part 1
What did 2016 bring to Sebestyén? A surprising comeback to World Superbike, always with Team Tóth! Yes, Sebestyén returned to WorldSBK thanks to the team managed by Imre Tóth Jr. However, he didn't ride a BMW machine like in 2014, but a Yamaha R1 that would have fitted more Superstock 1000 than SBK, as the electronics definitely wasn't the same as the one equipping factory machines. In any case, Sebestyén improved his results as the races went by and in particular, he showed very good speed at Imola. However, bad luck decided to stop "Peti" on the Italian circuit: during the warm-up lap of Race 1, Dominic Schmitter crashed in front of Sebestyén at the exit of Acque Minerali corners and the Hungarian couldn't do anything to avoid the Swiss rider (video here). The final result was a huge crash and the foot injury suffered by Sebestyén forced him to miss the remainder of Imola Round and the race weekends held at Sepang and Donington Park.
2016, Part 2
Péter Sebestyén returned from his injury at Misano. The following round, held at Laguna Seca, saw Sebestyén suffering one more bad crash due to the oil spilled by another bike. This affected his performance during the weekend. The two-month summer break that came after US Round allowed Sebestyén to fully recover and the races that took place at Lausitzring represented a new starting point for his 2016 campaign. Less than one month later, Sebestyén scored his first World Championship point ever at Jerez, as he finished Race 1 in 15th position. It may look meaningless, but it actually wasn't, as he achieved it despite many problems and a not competitive bike…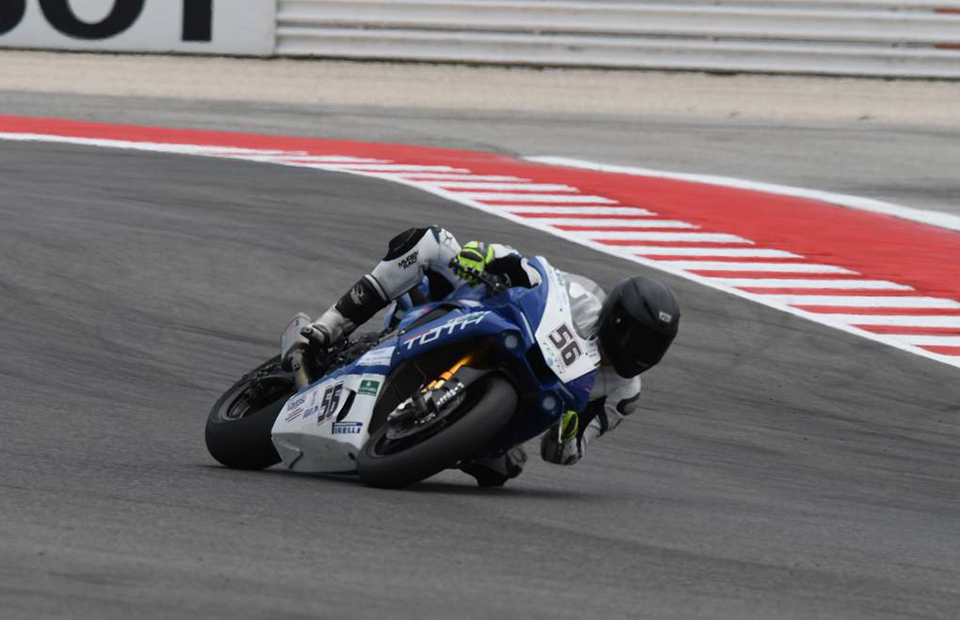 2017
In 2017 Team Tóth focused on brand new Supersport 300 World Championship and so Péter Sebestyén had to change bike and championship one more time. Finally, he took part in the European rounds of Supersport World Championship with SSP Hungary by Pedercini Kawasaki Team. The switch to 600cc bikes was tougher than expected and Sebestyén didn't manage to score remarkable results. Anyway, 2017 season enabled him to get used to Supersport bikes, after spending three seasons on 1000cc ones.
2018
Sebestyén was re-signed by SSP Hungary for 2018 season and the fact he remained in the same team and championship as the year before seemed to be positive. However, the season took a negative turn at the beginning, as there were many problems inside the team. Everything seemed to be solved before Imola Round, since the team came to Italy with a different technical crew, but finally the Hungarian squad disappeared and so Sebestyén remained with no seat.
CIA Landlord Insurance Honda
After much trouble and just two point-finishes out of 51 races in Superbike, Superstock 1000 and Supersport, Péter Sebestyén had no bike to ride. Fortunately, the break lasted less than two months, as CIA Landlord Insurance Honda Team signed him before Misano Round to replace Andrew Irwin (who had moved to BSB to replace injured Shane Byrne). The squad owned by Simon Buckmaster, usually known as PTR Honda, has been racing in World Supersport for more than 10 years and it boasts 20 wins, many podium finishes and three overall runner-up results (2009, 2010 and 2012) in its name. All of this has been achieved by the team thanks to people like Craig Jones, Eugene Laverty, Jules Cluzel, Sam Lowes and Kyle Smith. Not bad, really…
End of 2018
The new life of Sebestyén inside CIA Landlord Insurance Honda started with a 17th place (Misano) and a retirement (Portimao), but the following two rounds (Magny Cours and San Juan) saw the Hungarian finishing 14th and 15th and then, in Qatar, he even was 10th. Sebestyén made huge progress on a quite old machine (Honda CBR600RR) and this secured him a deal for 2019 with the iconic British team.
2019 Australian Round
The current season started at Phillip Island, as usual. Péter Sebestyén performed top-10 laptimes during both pre-season test and Practice sessions and then he scored a good 8th place, as he was the first Honda rider to cross the finish line. Yamaha YZF-R6 and MV Agusta F3 may be faster than Honda CBR600RR, but now we can say that Sebestyén has all he needs to grow as a rider and achieve great results, as he really enoys to work with the CIA Landlord Insurance Honda guys.
HAJRÁ PETI!
After some difficult times, Sebestyén has a great chance to show what he can do and to prove that the scepticism surrounding him was definitely wrong. What to say? Go Peti!!!