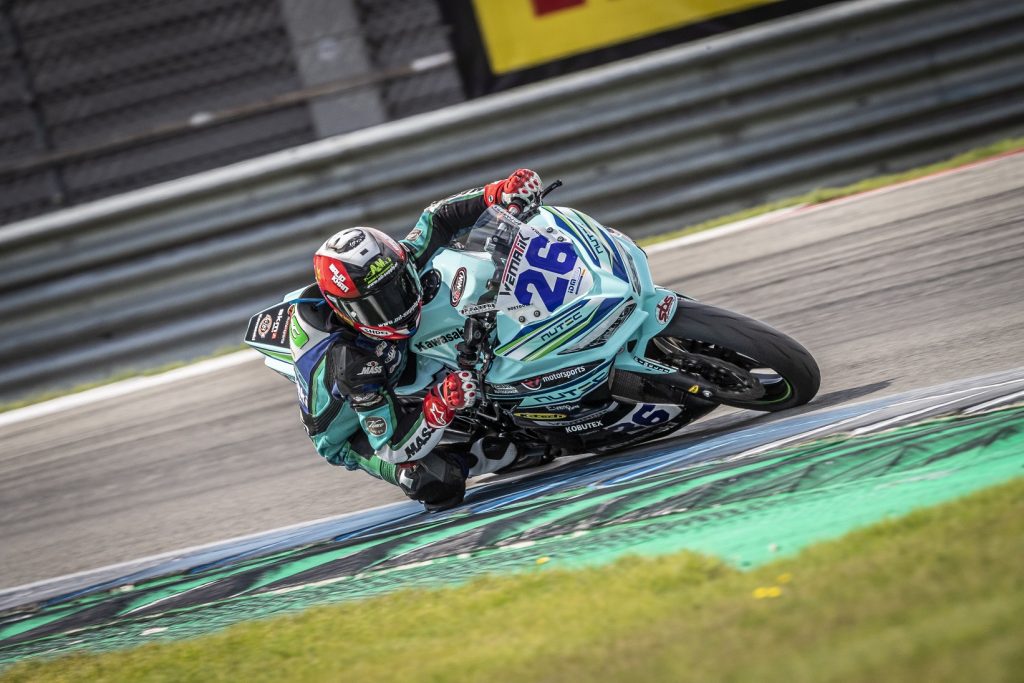 Last August, Palmen in Motorradsport told you about the great return to racing of Walid Khan, who joined IDM Supersport 300 after a long break (read here). One month later, the young Dutchman keeps doing an amazing job, as he scored two amazing wins last weekend in Assen. This successful ride has also helped Walid in climbing the overall championship standings: now, the youngster is very close to the top-3, despite missing the first three rounds of the season…
What a comeback!
After returning to business from 6th to 8th August in Most, later on Walid Khan continued racing in the German championship with Nutec – RT Motorsports by SKM – Kawasaki, where he's replacing injured Micky Winkler. The former WorldSSP300 and Red Bull MotoGP Rookies Cup contestant had already scored two great podium finishes on the Czech track, but something a bit bigger came just one week after in Assen. At the fifth round of 2019 IDM Supersport 300, hosted inside the Gamma Racing Day, Khan achieved a second place and a win and so, he confirmed once again his huge strength. All this wasn't enough to the rider born right in Assen and last weekend's stage, which happened once again on his home circuit, saw him triumphing in both races after some very packed fights (even nine riders formed the front group in Race 2).
High hopes
Following these results, and despite not taking part in the first six races of this year, now Khan is sixth in championship standings with 136 points, just 28 less than the rider in second position (Rick Dunnik). The title is impossible to achieve, as fellow former WorldSSP300 rider Angelo Licciardi leads with 204 points, but the fact there are two races left and 50 more points available makes top-3 something far from being unachievable. Walid Khan proved that a one-year break due to personal reasons (no details will be provided, to respect the rider's privacy) hasn't affected his talent at all and now, the youngster wants to astonish the crowd once again in Hockenheim, where the grand finale of 2019 IDM will take place from 27th to 29th September.
May Walid return to World Supersport 300 in 2020? Nothing's certain, for now, but…Wouldn't it be nice?