Some years after Michael Ranseder (who scored some good results in 125cc), Austria will have one permanent rider in the MotoGP paddock again. It will happen thanks to Maximilian Kofler, since the 19-year-old will contest 2020 Moto3 World Championship season with CIP-Green Power. He will ride a KTM machine and his team-mate will be Darryn Binder.
Maximilian Kofler's face won't be new in the MotoGP world. The rider from Attnang-Puchheim has already taken part in three editions of the Austrian GP in Spielberg (2017, 2018 and 2019) and in this year's British GP in Silverstone, always as a wildcard entry. He's currently taking part in Moto3 Junior World Championship with Ángel Nieto Team and so far, he scored some good top-10 results at his second year in the series. Furthermore, last weekend he scored a surprising win and a 4th place in Italian CIV Moto3 Championship, as he replaced injured Francesco Prioli in Mugello. In the past, he had already raced in CIV for the whole 2017 season.
Palmen in Motorradsport interviewed Maximilian Kofler to know more about him, his expectations ahead of 2020 and something more.
The interview
First of all, congratulations for your 2020 deal. What do you expect from your first full season in Moto3 WC?
I am so happy to sign with CIP-Green Power Team. For my first year in the World Championship, I mainly hope to get a lot of experience and to score the best results possible. I'm really looking forward to starting this new journey.
How did you get in touch with the team?
We had always been in contact during the last two years, while I was in Moto3 Junior World Championship. There was still something to fix and finally, we have done it. 
Last weekend you competed in Italian CIV Championship and you managed to win Race 1. Can you talk about it?
It was a very nice race. The front group was very big and the fight was very hard, but I managed to stay in the first four/five positions and sometimes, I led the race. In the end I was first, but the red flag came out due to a crash involving five riders. They were all in the front group and four of them were first, second, third and fourth at the end of the last full lap. Actually, there was some confusion. They hadn't taken their bikes to the pits within 5 minutes after the stop of the race, but the first three were called on the podium anyway. Finally, the rules were applied and the riders who had crashed were cut off the final classification. This way, I went from 5th to 1st position. I'm very happy with this win and I enjoyed working with M&M Management Racing Team.
I have a "patrioctic" question for you, since I'm Italian…You had raced in CIV also in 2017. Did you like it?
Yes. 2017 was my first full year in road racing, since I previously raced in supermoto, and CIV was the best option I could pick for my debut season in this world. I had a good season there and I enjoyed to be back in this series for two races, even if the beginning was quite difficult (he hadn't raced in Mugello for two years, ed).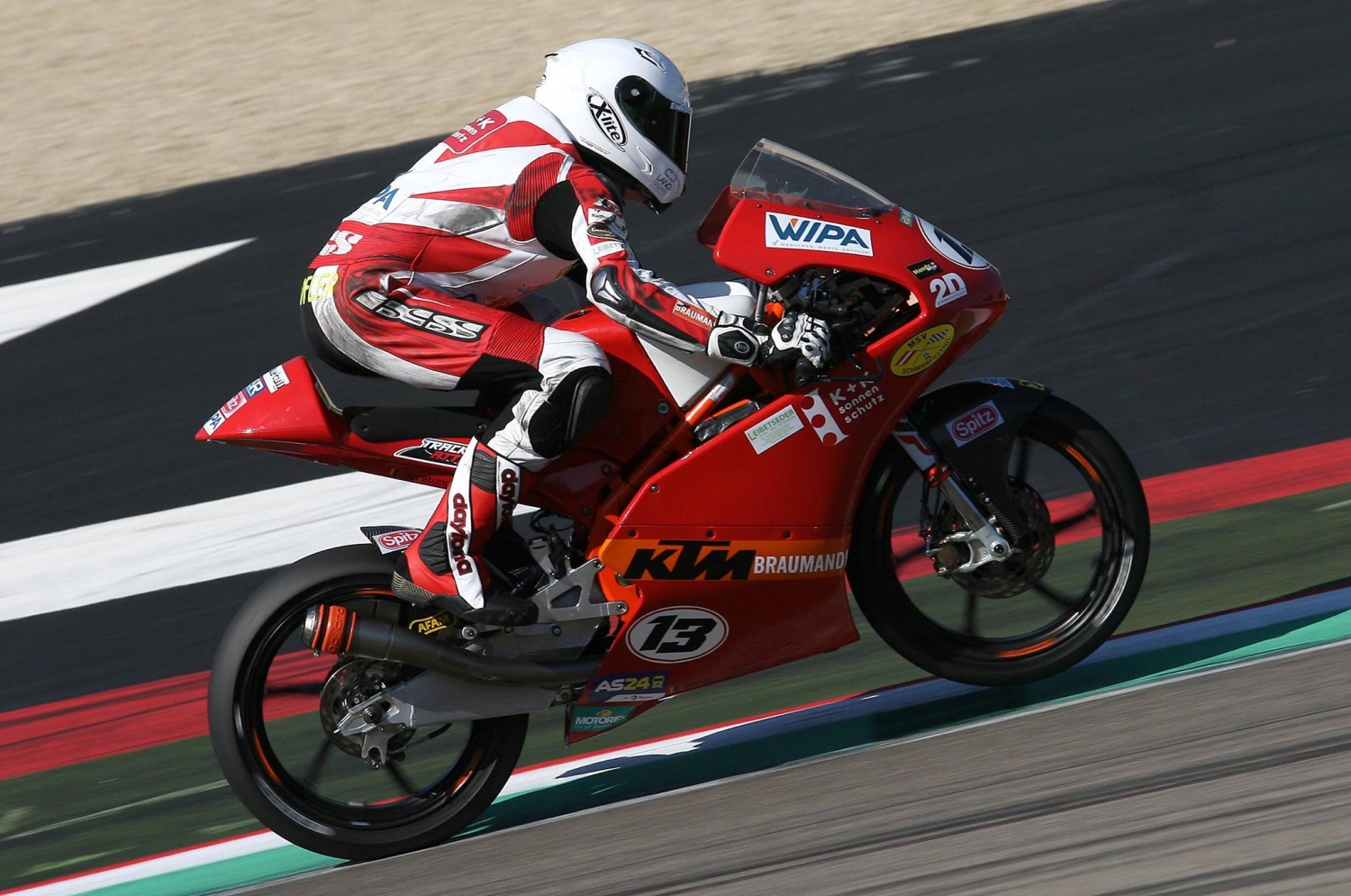 2019 season is a quite busy one: you're racing in FIM CEV and you got two wildcard entries in the World Championship. Are you enjoying it?
Yes, the season has been positive so far. We had some problems at the beginning, but in Le Mans we found a good setup for our bike. Since then, we scored some good results and now we are 11th in the championship standings with 27 points. It could be better, but it's not so bad. I also raced in Spielberg and Silverstone GPs as a wildcard and both races were fine, even if in Silverstone I crashed out at the second-to-last lap. It's always good to race in the World Championship and get some experience.
What's the main thing you have learnt thanks to those wildcard appearances?
Compared to the past, I have become more aggressive in the fight. Moreover, I've changed my riding style.
You'll be the first Austrian rider racing full-time in a MotoGP class after many years. How does it feel?
It feels great, also because in Austria it's very difficult to become a rider. The people are not interested in supporting motorcycle racing and they put all the money on football and skiing. I've come to this level also thanks to KTM and I hope to reach some more great results in the future.
In conclusion, by curiosity, are you related to former ski jumper Andreas Kofler?
No, but I know him and the Austrian ski jumping team, because they came to the hotel my parents own in Attnang-Puchheim. Curious fact: my lil brother's name is Andreas (he's also a motorcycle racer, currently n European Talent Cup, ed) and once, we took a picture together, me and the two Andreas Koflers. It was a nice moment!
Palmen in Motorradsport is grateful to Maximilian Kofler for his kindness and wishes him the best for the final part of this season, for 2020 and for his future in general.