Not many riders can boast three seasons in Red Bull MotoGP Rookies Cup, one in Moto3 World Championship, two in the most competitive national championship in the world (BSB) and three, including the current one, in the WorldSBK "circus", with just 23 years of age. Well, Scott Deroue can.
Born on 23rd December 1995 in Nijkerkerveen, Scott Deroue has been racing in Supersport 300 World Championship since 2017 and last year he fought for the title till the last round of the season, against Mika Pérez and World Champion Ana Carrasco. The young Dutchman represents Kawasaki Motoport Team (the current name of MTM Racing Team) together with his compatriots Robert Schotman, Jeffrey Buis and Dion Otten.
Palmen in Motorradsport asked Scott Deroue to talk about his experiences in MotoGP, BSB and World Supersport 300. Here's what he said.
Interview
First of all, can you talk about how 2019 season has gone so far?
It's going pretty well. Unfortunately we couldn't race in Imola due to heavy rain (the race has been re-scheduled on the next round, at Jerez de la Frontera, ed), but we scored two podiums in Aragon and Assen (he finished respectively third and second, ed) and now we're second in the championship standings, behind just Manuel González. We still struggle in Free Practice and Superpole, but we are very strong in the race and this is what matters, since the race is where you score the points. I'm happy with how the season has gone so far and the way our bike has been improving.
This is your third year in World Supersport 300. What do you think of the current situation of this championship?
2018 season was definitely a "dramatic" one, since the regulation was changed very often and was not fair, but this year they've done a very good job. Laptimes are very close and racing is pretty spectacular, so I can't complain.
Now let's go back to when you raced in Red Bull MotoGP Rookies Cup, from 2011 to 2013.
In 2010 I raced in German IDM Championship and in the final part of the year, I was invited to the Red Bull MotoGP Rookies Cup selection event. RBRC is a very affordable championship (the riders pay only the trips to the circuits, ed) and since my family is not a rich one, I thought: "OK, this is my chance to go international and continue my career. If I fail, it's over". I gave my best during the selection and finally I was chosen for 2011 season. At the beginning it was difficult, but I improved race by race and finally I scored two podium finishes. In 2012, instead, I won many races and scored many podiums and so I finished second behind Florian Alt (currently a front-runner in Endurance World Championship, ed).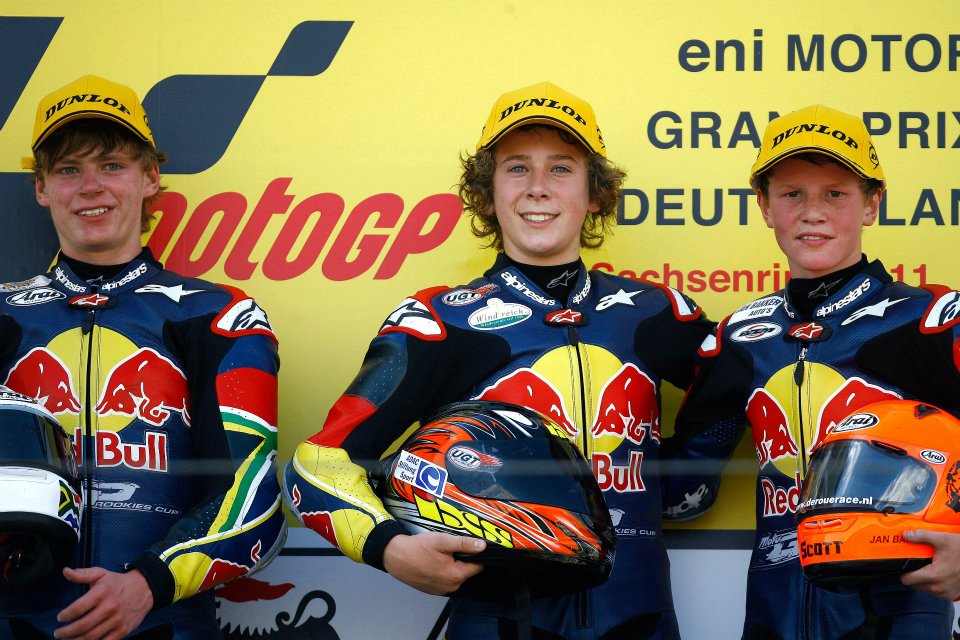 The year after I stayed in Red Bull Rookies Cup and honestly I felt a bit of pressure, since I was very strong in 2012. In 2013, RBRC moved from 125cc 2-stroke to 250cc 4-stroke engines and it took a bit to get used to that change. However, I fought for the third place in the standings till the end, but I finished 7th following a crash in the last round of the season.
In 2014 you stepped up to Moto3 World Championship. 
Yes. On the 6th January of that year, I think, RW Racing GP called me to race in the World Championship and then, a new journey started for me. The season didn't go as I hoped, since I scored no points, but it was a nice experience and it's always great to race with the best riders in the world. I fought for the points in many races, but finally I finished 16th, 17th or 18th. The beginning was quite positive, but then we had difficulties, especially in the last part of the season. Although I didn't reach my goals, I really enjoyed racing there, as I gained some valuable experience for my career.
By the way, you also experienced something curious in 2014, at Sachsenring. Can you explain what happened?
We were in the second lap and I was fighting against Bryan Schouten and Luca Gruenwald. At the first corner I braked a little too late. There's a little slope right there and so I lost it and went into Gruenwald. Gruenwald went straight on the gravel and me, I crashed. A few moments later my bike hit Bryan Schouten, who was running wide following a mistake, and finally he crashed as well.
Racing in World Championship can be very emotional, especially when you don't score the results you aim for. Bryan was struggling (he didn't score points in that year, ed) and following that crash, he totally went crazy. He got up, he came to me and started punching me. I tried to distance him, but he came to me and punched me again, so I had to push him away. The marshals came to separate us, but he reached me once again and hit me on my back. It was a bad thing, obviously, and the following days were bad too. Many people blamed me instead of Bryan for what happened. It wasn't good for my reputation, you know. Fortunately, it didn't last long…
In 2015 and 2016 you raced in BSB, first in Moto3 and then in Superstock 600. Did you have a good time?
Yes, it was amazing. BSB is the most competitive national championship all over the world and the level is very high. Furthermore, English people really love motorcycle racing and you can see it in the level of the championship and in the fact there are always so many spectators. Usually, people think that a rider from the World Championship can immediately get to speed in a national one…Well, this is not the case of BSB. It's very hard to move from GP venues to circuits like Snetterton, Oulton Park, Cadwell Park, Brands Hatch and Knockhill and it takes many laps to find the right way. In the end I adapted to it and in 2015 I was British Motostar Champion (Moto3 class, ed). The year after, I finished 10th in National Superstock 600 Championship, on Tsingtao Racing's MV Agusta.
In 2017 you joined World Supersport 300. Why did you make this move, instead of racing again on a 600cc?
My goal for 2017 season was to race in British Supersport, but a good seat in that championship is very hard to find and expensive and as I said before, we don't have so much money in my family. I was searching for a seat in another championship, when Ludo (van der Veken, Kawasaki Motoport Team Manager, ed) and Kawasaki Holland proposed me to race in brand new Supersport 300 World Championship. The series had just been launched and I found it stimulating to be part of something new. So, I signed with them. I didn't know what to expect, but I made a strong performance in both the first two seasons (he won two races in 2017 and was part of the title fight in 2018, ed). Now I'm still here, with the same team and the same manufacturer.
After the season you lived in British National Superstock 600, how was the first ride on a 300cc machine? 
In National Superstock 600 I rode a very competitive bike and when I jumped on the 300cc for the first time I said: "Oh God, this is slow…". I also remind you that I was riding a Kawasaki Ninja 300, back then, and the Ninja 400 I'm riding now is much faster. In any case, the first ride on a Supersport 300 bike wasn't as good as I expected. However, I tried to make the best out of my package and now I'm very happy to race in this championship.
What's your goal for the future?
I want to go to World Supersport, but you know, it's very hard. In WorldSSP there are great riders like Randy Krummenacher, Federico Caricasulo, Lucas Mahias and Jules Cluzel…The problem is that they don't move to World Superbike! The same happens in Superbike: there are few strong seats and the best riders in the championship stay there, without moving anywhere else. In this situation, it's very hard to step to the upper class and find a good seat. Anyway, now I want to do my best in Supersport 300, then we'll see…
In conclusion, have you ever thought of returning to the MotoGP paddock?
No. The WorldSBK paddock is more enjoyable and friendly and I think I can get better results in WorldSBK than in MotoGP. I want to stay here.