One of the main events in 2020 Motor Bike Expo, which took place from 16th to 19th January in Verona, was the launch of the sports program of Pata Snack. The historic Italian company will back both Crescent and GRT Yamaha teams in World Superbike and will also support Bardahl Evan Bros. Racing Team in World Supersport. With Toprak Razgatlioglu as the only exception, the guest list included all the riders of the above-mentioned teams: Bardahl Evan Bros. arrow Andrea Locatelli, Michael van der Mark and the GRT Yamaha pair formed by Federico Caricasulo and Garrett Gerloff.
Actually, for some months the eyes of WorldSBK fans have been focused on one of these riders. Which one? Garrett Gerloff. Ranking third in 2019 MotoAmerica Superbike season, as he scored four wins and eleven further podium finishes, the 24-year-old rider from Texas will face his rookie season in Superbike World Championship. This new American rising star will try to stand out at international level, as done in 2009 by his compatriot and "scout" Ben Spies.
Just before the event organized by Pata Snack, which happened just few days earlier than WorldSBK Test sessions in Jerez and Portimão, Palmen in Motorradsport had the chance to interview Garrett Gerloff, in order to know more about him­.
Garrett, you are debuting in World Superbike. How does it feel?
It feels great, because it's wonderful that thanks to Yamaha and GRT Racing Team, I have the chance to show my skills in a World Championship. I will take advantage of this opportunity at best and I want to see where I'll be at the end of the season. I definitely have a plan for this year and I've got many goals I want to reach. I'm really confident and I hope everything is going to be fine.
Which goals have you set for this season?
For now, I prefer to keep them secret. What I can say, it's that I want to be a better rider than I was yesterday. I want to take the focus off the other riders and how good they are, because my plan is to focus on myself and use the rest of the field as a reference. I would like to be with the other Yamaha guys, but now I just want to keep concentrated and improve.
Your team-mate for this year will be Federico Caricasulo. Are you getting along with him?
It's been great so far. We had a fitness test together and in those days we shared the room and everything and we had a nice time. He's a very good and fast guy and this year we're both going to learn new things: me, the tracks; Federico, the Yamaha R1. I hope we can help each other and use the knowledge we'll acquire to build a strong team.
It's not that granted, to have such a good relationship with the other rider of the team…
Yes, because it's very hard to find the balance between helping each other and wanting to beat the other guy. Some people kind of have to "hate" the riders they race against…Well, I'm not like that! On track I race hard, but outside I can be friend with the other guys. However, when you put your helmet on, everything changes: it's just you and the bike and the only thing you can do is trying your best to win.
Talking about 2019, what can you say about your season in MotoAmerica?
That season was a little bit up-and-down. I had some very good moments and I also had some low moments. I made some mistakes and I had a few problems along the way. However, I think we finished very strong and were more or less consistent. We made lots of progress compared to 2018 (when he finished fifth, ed) and I was very happy to be winning some races and to be constantly in the front. There are a couple of things I would change, so that I could become champion, but there's always the "What if…?" and the past can't be changed. Now I just want to move forward and continue the adventure I'm having now in WorldSBK.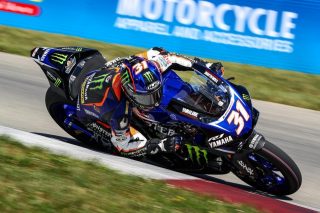 Can you shortly talk about the beginning of your racing career?
When I was 4 I got my first dirt bike, a Yamaha PW50. My dad raced and that's what made me want a bike. I started riding when I was 4, but I didn't race anything until I turned 12 and got my first road racing bike, which was a little Metrakit. Since the first time I got on the minibike, I understood that road racing was something I wanted to do in my life. Since then, I've dedicated everything to it and it's been a full-throttle, chasing goal after goal and constantly setting higher goals. And it's not over yet, because I would like to be in MotoGP someday…
Did you expect to reach such a high level, with just 24 years of age?
It's hard to say, but it definitely hasn't been easy to get where I am and there's still much I want to do. Honestly, to come here when I'm 24 seems a little bit old. Not that I expected to arrive earlier, but I don't feel that young. Anyway, I just try not to look at the age and do the best I can. The most important thing is to get the results…
Do you like Italy?
It's great and I love the passion I see in people. The passion they have for food, the passion they have for football, the passion they have for motorcycles…I really like it, also because it's something I don't see as much in the US. You guys have a beautiful country!
In conclusion, do you want to say "thank you" to anyone for being here?
Yes. At first, I want to thank Yamaha USA: although I had an offer from them to stay in MotoAmerica, they allowed me to look for something in World Superbike. Secondly, I'm very grateful to Andrea Dosoli and Yamaha Europe, since they pushed for me to come here, and Filippo Conti and GRT Racing Team, who gave me this great opportunity. GRT is definitely a great team and I'm excited to be working with them. Furthermore, a person who played a crucial role in all this is Ben Spies, because he helped me so that I could be in the right place to talk to the right people. I've known him for many years and I know he wants to see someone going from MotoAmerica to WorldSBK as he did in 2009 (when the name of the American series was still AMA Superbike, ed). He has lots one confidence in me and I'll never thank him enough.
Plus, you will be the first American rider racing in WorldSBK on a Yamaha, eleven years after Ben Spies himself…
Yes, and a curious fact is that in 2009, Ben used Alpinestars leathers and HJC helmets…As I'm doing this year!
Palmen in Motorradsport is grateful to Garrett Gerloff for his kindness and wishes him a satisfying and positive 2020 season.